There are so many curly girls out there in tv shows and media, which I LOVE, since I myself am naturally curly-haired. So many hair trends right now are straight or wavy, and however much I pine after them (I find those styles so pretty!) I know it will probably be a while until I finally get the energy to try them out. So for now, I'm sticking with the curls.
One character I absolutely LOVE is Zoe from Firefly, mostly because she is so incredibly bad-ass. But also because of her fantastic head of hair.
She has got to be one of my favourite TV characters... just so amazing!
Plus, her and Wash are the cutest couple! As soon as I begun watching the show, I was a fan. The characters are all so
interesting,
and the story line makes you want to keep watching. It honestly is heartbreaking that there is only one season.
Anyway, back to hair.
Another one of my hair inspirations on TV is Annie from Being Human. Her hair is just so cute and bouncy and it makes me want to chop all of mine off!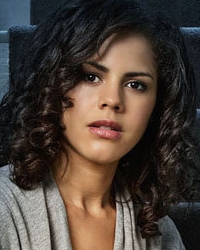 Seeing all these curly haired heroines makes me extra happy with my own hair... sometimes my mane can be incredibly frustrating, but it does pay off eventually, with patience and good humour! To any curly girls out there: keep rocking those curls!
Until the next!